Parts Container Cover 80 antistatic, black
Art. No.: 0.0.432.29
Video

Title / Content

Size

Format

Download

item work bench systems - New Products Autumn 2010

The new item work bench system.

31 MB

MPEG4
Image

Description

Files

Double assembly work bench - Article EX-01056

Two height-adjustable table elements with accessories for production work.



read more

Log in

PDF CAD Parts list Drawing
| | |
| --- | --- |
| eCl@ss 4.0 | 21020901 |
| eCl@ss 4.1 | 21029801 |
| eCl@ss 5.0 | 21029890 |
| eCl@ss 5.1 | 21029890 |
| eCl@ss 6.0.1 | 21029890 |
| eCl@ss 7.1 | 15030201 |
| UNSPSC 7.0 | 56111902 |
| UNSPSC 9.0 | 56111902 |
| customs tariff number | 39269097 |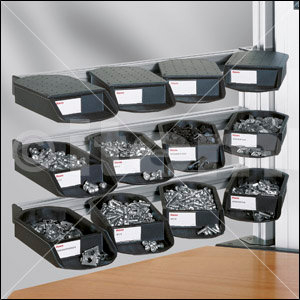 Stackable Parts Containers in various widths and heights for holding small parts within easy reach at work benches.
The Parts Containers are divided into two sections:
- Storage containers at the rear
- Front section where a small number of components can be transferred from the storage container for greater ease of handling.
The Parts Container Covers can be used to seal the Parts Containers against dust and enable the Parts Containers to be stacked offset one above the other.