Lamp 35W with Flexible Tube
Art. No.: 0.0.417.71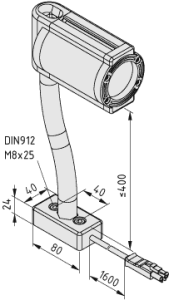 ON/OFF switch
Halogen reflector 35W
Protective panel of hardened glass
Protection: IP 67, EN 60529
Protection class III
| Properties | | | |
| --- | --- | --- | --- |
| Line | | = | line 8 |
| Delivery Unit | | = | 1 set |
| Power | P | = | 35 W |
| Voltage (DC) | U | = | 12 V DC |
| Weight | m | = | 1.22 kg |
Accessories for Lamp 35W with Flexible Tube
Video

Titel / Inhalt

Größe

Format

Download

item work bench systems - New Products Autumn 2010

The new item work bench system.

31 MB

MPEG4
Dust-tight and water-tight industrial spotlight (IP 67) in a low-voltage (12 V) design.
The aluminium housing for the Light Fitting is equipped for fastening with Profile 8 grooves. A Hinge, heavy duty or other fastening elements can be used to integrate the Lamp 35W into machines, fixtures and equipment.
Lamp 35W comes with a 2 m connecting cable, which is linked to the electronic transformer using a coded system plug.
Up to 3 Lamps can be attached to this power pack via the distributor block.
The voltage supply to the electronic transformer is provided via the Connecting Cable, Socket / Earthed Plug (0.0.417.42) to a 230 V safety contact socket.
The housing of Lamp 35W can be fitted with Handle PA 80.